Cooking and dinner courses
Please contact us for dates and prices.
In our courses you will learn how to make dishes using solely organic products with a healthy approach and following traditional and innovative recipes.
Some of our courses on offer:
SEPTEMBER - Gluten and Dairy Free Desserts
OCTOBER - Use of "Alternative" Cereals
NOVEMBER - Pulses in the Kitchen: cooking and combining with herbs and spices.
Themed dinners at the farm
Please contact us for dates and prices.
We offer themed dinners made with our own organic produce. Dishes are prepared following the Venetian Cuisine traditions. We will overview the cooking techniques.
SEPTEMBER: Corn, Rabbit, and Grapes
- Yellow Polenta Soufflé with Cheese;
- White Soft Polentina with Steamed Vegetables;
- Herb Rabbit with Potatoes;
- Sugoi and Zaleti (typical Venetian Cookies).
OCTOBER: Duck following the Farmers' Traditions
- Duck Bigoli (Type of pasta);
- Duck Stuffed with Home Made Salami;
- Smothered Cabbage ("Verze sofegà") and Red Wine Fondant Potatoes;
- Rhubarb Tart.
NOVEMBER: Assorted Pumpkins
- Savoy Cabbage Bundles Stuffed with Pumkin and Caciotta Cheese;
- Tastatale (Fresh Salami Paste) and Pumpkin Risotto;
- Pumpkin "Gnocchetti Soffiati" with Treviso Chicory Veloute;
- Grape and Pumpkin Strudel.
- Pumpkin and Grape "Gel".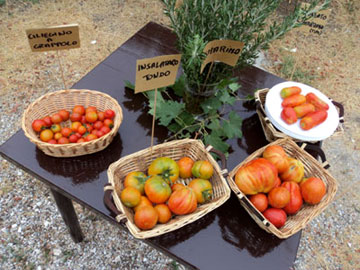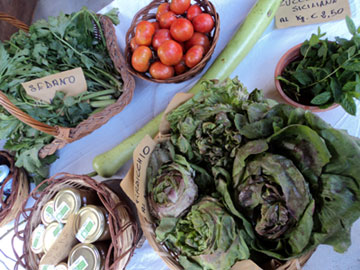 Recipes
SAVOR
Old Venetian and Emilian Recipe
The word savor means flavour, in ancient Italian was used to name the sauce (in the rustic Tuscan dialects "savore" is a pesto made of walnuts and green grapes, used to serve with meat). In the farm houses it was preserved in small long neck demijohns and served as an energizer bread and dripping for the winter. Dense and dark, Savor is optimal to accompany sweet dishes, roasts and boiled beef.
Take 8 litres of black grape must and set them to boil until the must is dense and only 2 litres (approx.) remains. In this sugar concentrate set to boil 2,5 kilos of autumn fruit: pears, apples, quinces - peeled and cut into big pieces - figs, walnut and almonds, lemon zest, a bit of cinnamon. Then you proceed as you would for a regular jam. When the Savor has reached the desired consistency, it is poured -still boiling -into hermetic jars to preserve it.
MARTONDELA or MORTANDELA
Do not confuse with Mortadella
It is a type of pork sausage. It is made by gross grounding various parts of the pork (tongue, liver, pork neck, etc.), mixing the paste and shaping it as meat balls. Wrap them with a "roast wrap net".
MANAI
The day before, put the beans in water. Set them to boil until, with the "ossa", the beans are cooked; take the "ossa" out of the pot and add onions, lard and add polenta. Cook as you normally cook polenta (approx 50 minutes, constantly stirring). Some families add rice to the mix. Serve very hot.